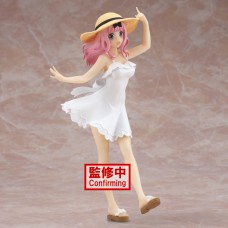 Additional Savings!
Earn Reward Points and apply them to purchases! Find out how to earn more points here.
Chika Fujiwara is the secretary of the Student Council in Kaguya-Sama: Love is War animated series. Chika is a third year at Shuchi'in Academy and also a member of the Tabletop Gaming club. Because of childish behavior and relaxing attitude, many of the students see Chika as a simple minded girl, however she is quite the talented pianist and can speak 5 different languages. Full color retail box packaging. Size 7.1 inches (17 cm)
https://www.youtube.com/user/MugenToys/featured
01-18877 Kaguya-Sama: Love Is War -Ultra Romantic- Kyunties Chika Fujiwara Figure Seaside Ver.