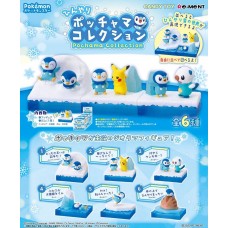 Additional Savings!
Earn Reward Points and apply them to purchases! Find out how to earn more points here.
Piplup (Pochama) Trading Figure blind box figures. Mini diorama figures with two figures. There are 6 different figures in this collection.
The Lineup is:
[1] Piplup - Lets Play -
[2] Piplup / Pikachu - Proud -
[3] Piplup / - Angry -
[4] Piplup - Zzz asleep -
[5] Piplup - Oops (Slipping) -
[6] Piplup / - Relax -
One Random Figure will be selected. Order 6 for an unopened display box with all 6 characters in the set.
Original Licensed Re-Ment Trading blind Box figures.
https://www.youtube.com/user/MugenToys/featured
02-20655 Pokemon Piplup (Pochama) Collection Trading Figure (One Random)