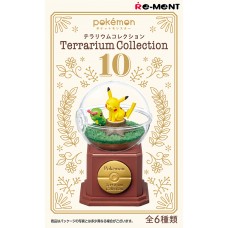 Additional Savings!
Earn Reward Points and apply them to purchases! Find out how to earn more points here.
Pokemon Terrarium Blind box trading figures. Features clear pokeball terrarium and pedestal. There are 6 different terrariums in this set. Each will be selected at random The line up is:
[1] Pikachu / Caterpie
[2] Bulbasaur (Japanese: フシギダネ Fushigidane) / Oddish (Japanese: ナゾノクサ Nazonokusa) 
[3]  Charmander (Japanese: ヒトカゲ Hitokage) / Diglett (Japanese: ディグダ Digda)
[4] Squirtle (Japanese: ゼニガメ Zenigame)
[5] Vulpix (Japanese: ロコン Rokon)
[6] Mew (Japanese: ミュウ,  Myū)
Order 6 for the complete set. Packaging: Full color retail box.
*Note: ships with NO candy. Japan release date: 4/22/2022
https://www.youtube.com/user/MugenToys/featured
02-20663 Pocket Monsters Pokemon Terrarium Collection Vol. 10 Trading Figure (One Random)