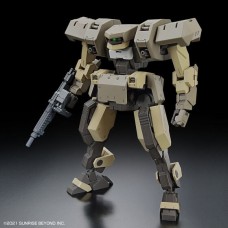 Additional Savings!
Earn Reward Points and apply them to purchases! Find out how to earn more points here.
From Kyoukai Senki  "Amaim Warrior", The mass-produced AMAIM Joe Hound, designed by Kanetake Ebikawa and fully open to the military taste of the North American alliance army, has been added to the HG lineup!

■ Magazine and grenade can be attached to and detached from the dedicated special rifle.
■ Reproduce the parked state and changes in facial expressions by opening and closing the head shutter.
■ Two types of hand parts are included. The weapon holder slides the back parts to reproduce the knuckle mode.
【Accessories】
■ Hand parts Weapon holder (left and right), flat hand (left and right)
■ Rifle (equipped with grenade launcher) x 1
■ Sticker x 1
AMAIM Warrior at the Borderline (境界戦機, Kyoukai Senki)

https://www.youtube.com/user/MugenToys/featured
01-63343 1/72 HG Kyoukai Senki Jo Hound Plastic Model