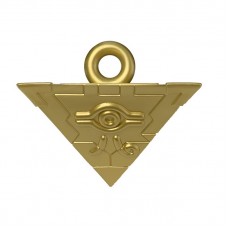 Additional Savings!
Earn Reward Points and apply them to purchases! Find out how to earn more points here.
Furyu Japan Yu-Gi-Oh! Duel monsters Millennium Puzzle Replica. Made of Plastic. Packaged in a black collectors box.  Great for cosplay! Size: 4.5 inches (11 cm)
千せん年ねん錘すい Sennensui "Millennium Pendant"
千せん年ねんパズル Sennen Pazuru "Millennium Puzzle"
- Contains the souls of Pharaoh Atem

- Summons and controls Duel Monsters, including the Egyptian Gods
- Grants the one who solves it intelligence and "power of darkness"
https://www.youtube.com/user/MugenToys/featured
AMU-PRZ10928 Furyu Yu-Gi-Oh! Duel Monsters Millennium Puzzle Replica