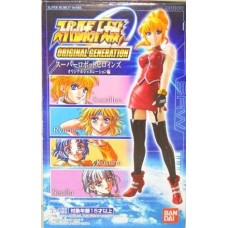 Additional Savings!
Earn Reward Points and apply them to purchases! Find out how to earn more points here.
Super Robot Wars Heroines - Original Generation Blind Box Trading figures. Full Color retail Box Packaging.
There are 4 characters in the set. The lineup is:
- Excellen Browning (エクセレン・ブロウニング)
- Kusuha Mizuha (クスハ・ミズハ)
- Yune Zoldark (リューネ・ゾルダーク)
- Seolla Schweizer
One random figure. Price per figure. Size: 4 inches (10 cm)
Order 8 for an unopened retail display box. 
Bandai Banpresto 2005
https://www.youtube.com/user/MugenToys/featured
01-34482 Super Robot Wars Heroines - Original Generation Blind Box Trading figures