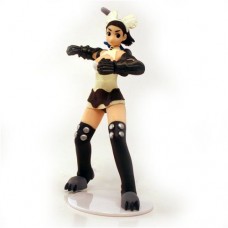 Additional Savings!
Earn Reward Points and apply them to purchases! Find out how to earn more points here.
ASH: Archaic Sealed Heat is a tactical role-playing game developed by Mistwalker and Racjin and published by Nintendo for the Nintendo DS in Japan in 2007. Yujin SR series gashapon brings us a miniature figure of Stealer from the latest Mistwalker production for the Nintendo. Figure measures around 3 inches in height (approximation).
This character  is from Japanese gashapon (Capsule)  toys. Packaging: selaed poly bag with all Jpaanese text mini booklet. Minimal assembly required.
https://www.youtube.com/user/MugenToys/featured
03-96970 SR Series ASH -Archaic Sealed Heat Mini Figure Collection - Stealer