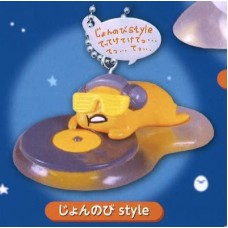 Additional Savings!
Earn Reward Points and apply them to purchases! Find out how to earn more points here.
Takara TOMY A.R.T.S  Gudetama 5th anniversary mini figure mascot on a ball chain key chain. Each figure depicts his lazy action with Japanese text in a funny speech balloon. Size:  1.25 inches (3.50 cm)
These figures are from Japanese gashapon toys. Price per figure.

SR-86550 Gudetama 5th Anniversary Mascot Collection Vol. 6 200y - Jonobi style