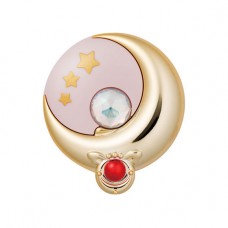 Additional Savings!
Earn Reward Points and apply them to purchases! Find out how to earn more points here.
Bandai Gashapon Bishoujo Senshi Pretty Sailor Sailor Moon Transformation Compact Mirror. The compact features a high luster chrome plated finish. This compact can be used as a small accessory case as there is a small "secret" compartment inside. There is also a small circular mirror inside the compact. construction is all plastic. Size: 2.5 inches Packaging: Plastic capsule with a all Japanese text mini booklet. The set contains 5 compacts. The lineup is:
[1] Moon Stick
[2] Cutie Moon Rod
[3] Spiral Heart Moon Rod

[4] Uranus Lip Rod
[5] Neptune Lip Rod
These figures are from Japanese Gashapon (Capsule) toys.
https://www.youtube.com/user/MugenToys/featured
01-13471 Bishoujo Senshi Pretty Sailor Sailor Moon Transformation Compact Mirror ~ Stick & Rod Arrangement 400y - Moon Stick