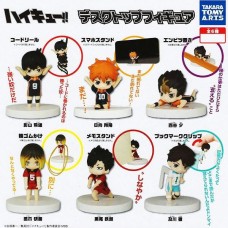 Additional Savings!
Earn Reward Points and apply them to purchases! Find out how to earn more points here.
Takara TOMY A.R.T.S Gashapon Haikyuu!! mini desktop figures. Adorn your desk with these diminutive figures. Each figure is posed to assist with your daily desk duties. Includes a stand for display.  Size: 1 - 1.25 inches (5 cm.)
There are 6 different figures in this set.  The line up is:
[1] Shoyo Hinata
[2] Tobio Kageyama
[3] Yu Nishinoya
[4] Kenma Kozume
[5] Tetsurou Kuroo
[6] Tooru Oikawa
The figures are form Japanese Gashapon (Capsule) toys. 
Note: ** Figures are small and do not support weight of objects well. Intended for display.
01-81846 Haikyu! Desktop Figure Collection 200y