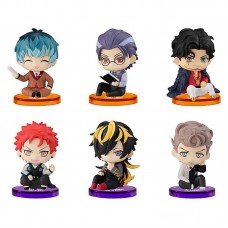 Additional Savings!
Earn Reward Points and apply them to purchases! Find out how to earn more points here.
Bandai Gashapon Hypnosis Mic Division Rap Battle Suwarasetai Sitting Figure Collection. Features characters from 2 Rap Groups: [Osaka division] [Nagoya division]. Includes a stand for display. Size: 2 inches. There are 6 figures in this set. The line up is:
[1] Rei Amayado a.k.a. MC MasterMind,

[2] Sasara Nurude a.k.a. Tragic Comedy
[3] Rosho Tsutsujimori a.k.a. WISDOM
[4] Hitoya Amaguni a.k.a. Heaven & Hell

[5] Kuko Harai a.k.a. Evil Monk
[6] Jyushi Aimono a.k.a. 14th Moon
These Figures are from Japanese Gashapon (Capsule) Toys.

01-50991 Hypnosis Mic Division Rap Battle Three Truces! Suwarasetai Mini Figure Collection 400y - Set of 6