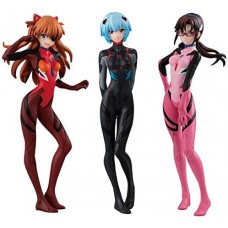 Additional Savings!
Earn Reward Points and apply them to purchases! Find out how to earn more points here.
Bandai Gashapon Shin Movie Version neon Genesis Evangelion Gasha Portraits mini figure collection. The set depicts the characters in their flight outfits. Some assembly is required. Size: 5 inches (12 cm). There are 3 figures in the set, The line up is:
[1] Rei Ayanami
[2] Asuka Langley Soryu
[3] Mari Illustrious Makinami
These figures are from Japanese Gashapon (Capsule) toys. Packaged in a Plastic capsule.

01-44617 Neon Genesis Evangelion Shin Movie Version Gasha Portraits Mini figure Collection 500y - Set of 3