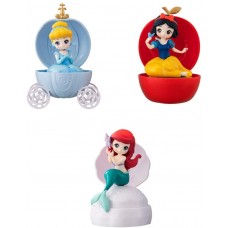 Additional Savings!
Earn Reward Points and apply them to purchases! Find out how to earn more points here.
These unique capsule feature the entire figure packaged in the capsule. The capsule opens and all the pieces to assemble the figure is inside. Size: 12.0 cm (4.50 inches). There are 3 figures in a set. The set includes:

[1] Cinderella
[2] Snow White
[3] Ariel - The Little Mermaid
These Figures are from Japanese Gashapon (Capsule) Toys.

https://www.youtube.com/user/MugenToys/featured
CM-41955 Disney Princess Capchara Heroine Doll Stories Capsule Figure Collection 500y - Set of 3