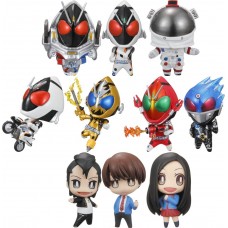 Additional Savings!
Earn Reward Points and apply them to purchases! Find out how to earn more points here.
Blind box figures. A display box contains 10 figures. Order 10 pieces for a complete display box. The popular "Kamen Rider Fourze" series has been added to the Deformed Meister Petit series!
The figures are Super Deformed, chibi style. Features detailed sculp and paint. Clear parts are used for the first time in some characters! 
Three of the figures include bonus parts that can be collected to create the flag of the Kamen Rider club. 
Lineup:
● Kamen Rider Fourze (Magnet States)
● Kamen Rider Fourze (Base States)
● Kamen Rider Fourze (Machine Massigler Boarding Ver.)
● Kamen Rider Fourze (Electric States)
● Kamen Rider Fourze (Fire States)
● Kamen Rider Meteor
● Space suit
● Gentaro Kisaragi + pole parts
● Kengo Utahoshi + pole parts
● Yuki Jojima + flag parts
https://www.youtube.com/user/MugenToys/featured
03-71473 Kamen Rider Deformeister Petit Fourze Kita Mini Figure Collection 500y - Random Figure