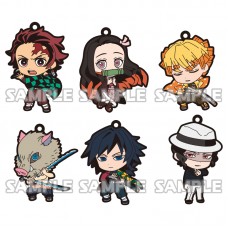 Additional Savings!
Earn Reward Points and apply them to purchases! Find out how to earn more points here.
Bushiroad Gashapon  Demon Slayer: Kimetsu no Yaiba Capsule Rubber Mascot Strap. Features a strap for attachment. Size: 2.25 inches (5.5 cm). There are 6 figures in the set. The Figures are:
Tanjiro Kamado (竈門かまど炭たん治じ郎ろう Kamado Tanjirō)
Nezuko Kamado (竈門かまど禰ね豆ず子こ Kamado Nezuko)
Zenitsu Agatsuma (我あが妻つま善ぜん逸いつ Agatsuma Zen'itsu)
Inosuke Hashibira (嘴はし平びら伊い之の助すけ Hashibira Inosuke)
Giyu Tomioka (冨とみ岡おか 義ぎ勇ゆう Tomioka Giyū)
Muzan Kibutsuji (鬼き舞ぶ辻つじ無む惨ざん Kibutsuji Muzan)

These figures are from Japanese Collectible Gashapon (Capsule) Toys.
Demon Slayer: Kimetsu no Yaiba (Japanese: 鬼滅の刃, Kimetsu no Yaiba,  "Blade of Demon Destruction")

https://www.youtube.com/user/MugenToys/featured
01-16028 Demon Slayer: Kimetsu no Yaiba Capsule Rubber Mascot Strap 300y - Set of 6