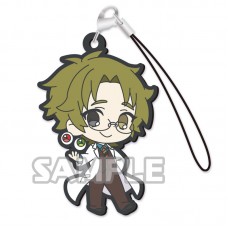 Additional Savings!
Earn Reward Points and apply them to purchases! Find out how to earn more points here.
Bushiroad Capsule Rubber Mascot Angel of Slaughter. Features a cell strap for attachment. Size: 2.25 inches (5.5 cm).
Danny (Daniel Dickens) is one of the antagonists in the game, Satsuriku no Tenshi. He first appears on floor B5. He was Rachel Gardner's counseling doctor. He is obsessed with Ray's eyes, particularly the lifelessness they display.
- satsuriku-no-tenshi.fandom.com
Alternate: Satsuriku no Tenshi ; Angels of Slaughter
These Figures are from Japanese Gashapon (Capsule) Toys.
https://www.youtube.com/user/MugenToys/featured
01-36884 Angels of Death Capsule Rubber Mascot Strap 300y - Danny Daniel Dickens