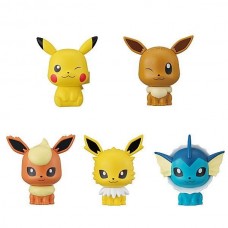 Additional Savings!
Earn Reward Points and apply them to purchases! Find out how to earn more points here.
Features
Exclusively from Bandai Japan
Size: 10 cm (4 inches) Height
Collector's Item
Officially Licensed
Pokemon Capchara (Capsule Character) super deformed Q style figures. Unique capsules are in the shape of the actual Pokemon. All the parts to build the Pokemon character are contained within the capsule. Sold as a random Figure. Price Each
There are 5 figures in this set. The figures in this set are:

Pikachu
Eevee
Vaporeon
Jolteon
Flareon
These figures are from Japanese Gashapon (Capsule) toys. Size: 3 inches (6 cm)
[W/S] Will be pick at random.
https://www.youtube.com/user/MugenToys/featured
02-37137 Pokemon Capchara Capsule Figure Pt 4 300y - One Random