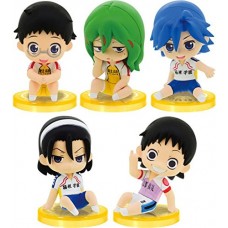 Additional Savings!
Earn Reward Points and apply them to purchases! Find out how to earn more points here.
Features
Exclusively from Japan
Size: 5.0 cm (2.0 inches) Height
Collector's Item
Officially Licensed
Complete Set of 5 Figures
  Yowa Mushi Pedal Grande Corps Mini figuyre with Stand. There are 5 figures in a set. The set includes:
- Onoda Sakamichi
- Manami Sangaku
- Makishima Yuusuke
Toudou Jinpachi
- Midousuji Akira
These Figures are from Japanese Gashapon (Capsule) Toys.

https://www.youtube.com/user/MugenToys/featured
01-97259 Yowa Mushi Pedal Grande Road Corps 1 Mini Figure with Stand 400y - Set of 5