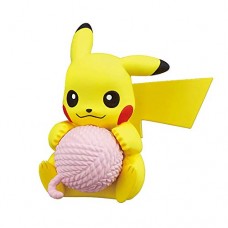 Additional Savings!
Earn Reward Points and apply them to purchases! Find out how to earn more points here.
Features
Japan Exclusive Import
Size: 4.0 cm (1.25 inches) Height
Collector's Item
Officially Licensed
Mini figure mascot depicts a pokemon figure snuggling up to a ball of yarn. Use it to decorate your work desk. There are 5 Different figures in a set. Each SOLD Separately! The set includes
Pikachu / ピカチュウ
Eevee / イーブイ

Alolan Vulpix / ロコン

Mimikyu / ミミッキュ

Litten / ニャビー

These Figures are from Japanese Gashapon (Capsule) Toys.

https://www.youtube.com/user/MugenToys/featured
02-87298 Pokemon Sun & Moon Nuku Nuku Yarn Ball Warm/Snugly Time 200y - Pikachu