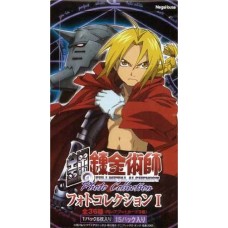 Additional Savings!
Earn Reward Points and apply them to purchases! Find out how to earn more points here.
The Full Metal Alchemist large photo cards measure about 5 x 3 inches (120mm x 80 mm) each. There are 6 random photo cards per pack. The entire set contains 36 cards to collect. There is also special silver embossed card in each pack.
I Display Box contains 15 packs.
Megahouse 2004
https://www.youtube.com/user/MugenToys/featured
05-80204 Full Metal Alchemist Photo Collection Trading Cards