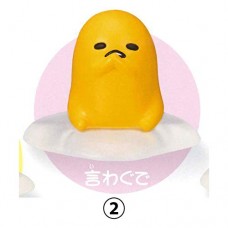 Additional Savings!
Earn Reward Points and apply them to purchases! Find out how to earn more points here.
Features
Exclusively from Takara TOMY A.R.T.SJapan
Size: 4.0 cm (1.25 inches) Height
Collector's Item
Officially Licensed
There are 5 figures in a set.  Gudetama "I don't want to move" mini figure collection. Each Gudetama style feature a clear 'egg white' base. For display.
The set includes 5 designs: Each sold Separately.
[1] Peeking
[2] Not Speaking
[3] Listen to Me
[4] Super Sleeping Sleep
[5] Hooray
These Figures are from Japanese Gashapon (Capsule) Toys. 
Physical Attributes
Attachment Type
Ball Chain
Size
4.0 cm
Type
Mascot
https://www.youtube.com/user/MugenToys/featured
SR-86387 Takara TOMY A.R.T.S Gudetama Ugokitakunai Gudetama Does Not Want to Move Mini Figure Collection 200y - [2. Not Speaking]