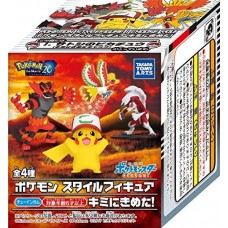 Additional Savings!
Earn Reward Points and apply them to purchases! Find out how to earn more points here.
Takara TOMY A.R.T.S candy / toy blind box Trading Figure collection. Full color box packaging. Size: 5-6cm (2 inches) tall. The Set includes 4 figures. Lineup is: (Manufacturer's Packout:)
3 pcs - [1] Satoshi's Pikachu (Satoshi's Cap)
3 pcs - [2] Ho-Oh (Japanese: ホウオウ Houou)
2 pcs - [3] Incineroar (Japanese: ガオガエン Gaogaen)
2 pcs - [4] Lycanroc (Japanese: ルガルガン Lugarugan) [Mayonaka no Sugata]
Wholesale:  MOQ Display Box of 10 pieces.  Price / piece.
https://www.youtube.com/user/MugenToys/featured
02-10580 Pokemon the Movie 20th Anniversary - Pokemon Style Figure I Choose You 380y