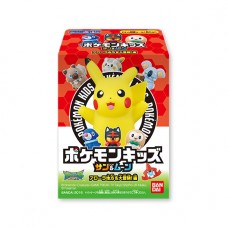 Additional Savings!
Earn Reward Points and apply them to purchases! Find out how to earn more points here.
Pokemon Pokemon Kids Sun & Moon Great Adventure in Alolan Trading Figure. Mini Trading Figures Pokemon with a card. There are 8 different figures in this set. Figures are approximately 1.75" Tall and are made of hollow Soft PVC. Note: Boxes are selected at random and specific characters can not be guaranteed. The set includes:
Pikachu
Rowlet
Litten
Popplio
Rotom
Rockruff
Togedemaru
Komala
A Display Box consists of 12 Blind Boxes. Ordering a complete box will get the manufacturers pack out of the characters. There will be doubles of certain characters in a complete display box of 12 figures.
Check this Reveal Video Below!
https://www.youtube.com/user/MugenToys/featured
02-09851 Pokemon Kids Sun & Moon Great Adventure in Alolan Trading Figure 200y