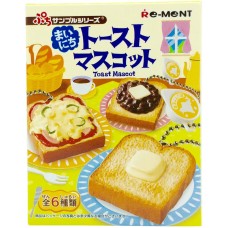 Additional Savings!
Earn Reward Points and apply them to purchases! Find out how to earn more points here.
ReMent Blind box trading Figures - Toast mascot. A collection of 6 different mini figure toast mascots from around the globe. Features a ball chain keychain for attachment. There are six different toast mascots in this set.  The lineup includes:
- My standard Toast (Toasted Bread and Butter)
- Azuki Toast (Red Bean Paste)
- Pizza Toast
- Peanut Butter Toast
- Fried Egg Toast
- French Toast
A display box of 6 blind boxes includes the complete set of all 6.  Order 6 for a complete set. 
SR-50465 ReMent Toast Mascot Trading Blind Box Figure