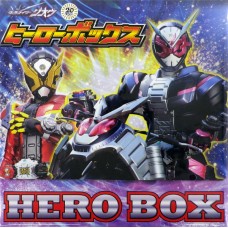 Additional Savings!
Earn Reward Points and apply them to purchases! Find out how to earn more points here.
Hero Box from Kamen Rider Zio. This is a package filled all kinds of goodies. It is packed with big bromide, cards, stickers, round menko.
The package is bag-shaped and can be carried anywhere.
Contents: 
9 cards
1 big bromide
1 sticker
Round Menko 1 set (Menko (めんこ, 面子), also known as Bettan or Patchin, is a Japanese card game played by two or more players.)
MFG: Ensky
https://www.youtube.com/user/MugenToys/featured
03-42599 Kamen Rider Zio Hero Box