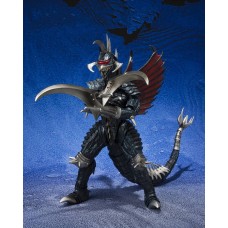 Additional Savings!
Earn Reward Points and apply them to purchases! Find out how to earn more points here.
From the 2004 film GODZILLA: FINAL WARS, the titanic kaiju Gigan rejoins S.H.MonsterArts in a new Great Decisive Battle Version.
Featuring the same sculpting and colors, it includes new effect parts!
Combine them to re-create "Customized Gigan." The "Bloody Chainsaws" feature rotating blades!
[Set Contents] Main Body, Modified Gigan option parts, Beam effect parts, Beam effect support rod and stand, Chain parts (x4).
https://www.youtube.com/user/MugenToys/featured
M1-61711 Tamashi Nations - S.H. Monsterarts Godzilla Final Wars - Gigan (2004) Great Decisive Battle Version