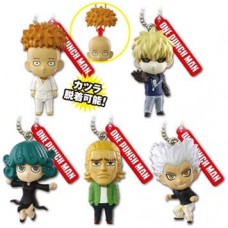 Additional Savings!
Earn Reward Points and apply them to purchases! Find out how to earn more points here.
Takara TOMY A.R.T.S Gashapon One Punch Man mini figure mascot key chain vol. 3. Features ball chain keychain for attachment.
Size: 1.25 inches (4 cm)
There are 5 figures in this set. The figures are:
Saitama (サイタマ, Saitama) / Charanko (チャランコ, Charanko)
Genos (ジェノス, Jenosu)
Tatsumaki (タツマキ, Tatsumaki; Viz: Tornado) Alt: Tornado of Terror (戦慄のタツマキ, Senritsu no Tatsumaki)
King (キング, Kingu)
Garou (ガロウ, Garō; Viz: Garo)

These figures are from Japanese collectible gashapon (capsule) toys.

https://www.youtube.com/user/MugenToys/featured
01-87802 One Punch Man Mini Figure Mascot Key Chain Vol. 3 300y - Set of 5