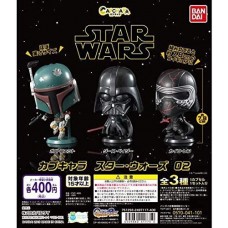 Additional Savings!
Earn Reward Points and apply them to purchases! Find out how to earn more points here.
Bandai Japan Star Wars Capchara series mini Super Deformed SD mini figure collection vol. 2. The head of the figure is the gashapon "capsule". All the parts to assemble the figure are inside. Simple assembly required. Each figure includes a stand for display. These are great little figures for adorning your desk  / office area. Size: 3 inches (7.8 cm). There are 3 figures in this set. The figures are:
Darth Vader
Kylo Ren
Boba Fett
These figures are from Japanese Collectible gashapon (capsule) toys. Intended for collectors.
https://www.youtube.com/user/MugenToys/featured
CM-41775 Star Wars Capchara Mini Figure Collection Vol. 2 400y - Set of 3