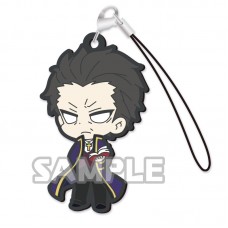 Additional Savings!
Earn Reward Points and apply them to purchases! Find out how to earn more points here.
Bushiroad Capsule Rubber Mascot Angel of Slaughter. Features a cell strap for attachment. Size: 2.25 inches (5.5 cm).
Abraham Gray is one of the characters in Satsuriku no Tenshi. He serves as the floor guardian of Floor B2, using drug-induced illusions to study sacrifices.

- satsuriku-no-tenshi.fandom.com
Alternate: Satsuriku no Tenshi ; Angels of Slaughter
These Figures are from Japanese Gashapon (Capsule) Toys.
https://www.youtube.com/user/MugenToys/featured
01-36884 Angels of Death Capsule Rubber Mascot Strap 300y - Abraham Gray