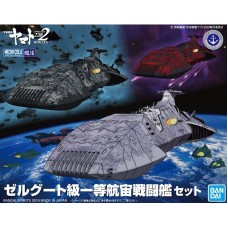 Additional Savings!
Earn Reward Points and apply them to purchases! Find out how to earn more points here.
Bandai  Mecha Collection Series Space Battleship Yamato (Star Blazers) Zoellugut-Class ships available as a 2-pack set.
The set includes  (1) one black and (1) one white combat vessel. Complete the model with decals. Two display stands are also included.

Size: 5 inches (12 cm)
BAN 2474517 Bandai Star Blazers

https://www.youtube.com/user/MugenToys/featured
00-58916 Space Battleship Yamato 2202 Mecha Collection 16 Zoellugut-Class 1st Class Astro Combat Vessel Set