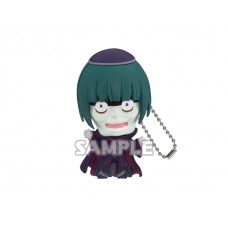 Additional Savings!
Earn Reward Points and apply them to purchases! Find out how to earn more points here.
Re:ゼロから始める異世界生活 コレクションフィギュア vol.2

Bushiroad Japan RE: Zero Life in a Different World from Zero Figure Collection Vol.2. Mini figure mascot key chain collection.  Features a ball chain key chain for attachment. Size: 1.25 inches.
There are 5 figures in a set. The lineup includes:
[1] Natsuki Subaru (ナツキ・スバル)
[2] Emilia (エミリア)
[3] Rem (レム) 
[4] Crusch Karsten (クルシュ・カルステン)
[5] Petelgeuse Romanee-Conti (ペテルギウス・ロマネコンティ) [Betelgeuse]

These Figures are from Japanese Gashapon (Capsule) Toys.  Price per figure.

01-71095 RE:ZERO Life in a Different World from Zero Figure Collection Vol.2 Mini Figure Mascot / Keychain 300y - Petelgeuse Romanee-Conti