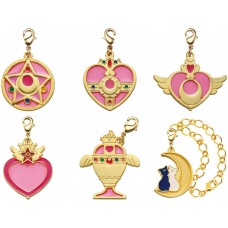 Additional Savings!
Earn Reward Points and apply them to purchases! Find out how to earn more points here.
Product Type: Charm with Clasp. Made of die cast metal with a cloissone like finish. Size: 3 cm.
There are 6 different charms in this set. 
The set includes:
[1] Luna and Artemis with Bracelet Chain
[2] Rainbow Moon Chalice
[3] Chibi Moon Compact
[4] Moon Crisis Compact
[5] Cosmic Heart Compact
[6] Crystal Star Compact
These figures are from Japanese Gashapon (Capsule) toys.
01-97187 Sailor Moon Stained Charm Locket with Clasp 300y - Set of 6