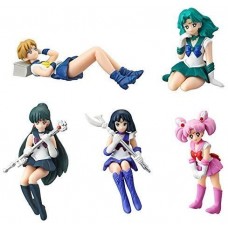 Additional Savings!
Earn Reward Points and apply them to purchases! Find out how to earn more points here.
Bandai Gashapon, Sailor Moon mini desktop figures part 2. These figures are finely detailed and require minimal assembly. They are sculpted into popular poses so you can use them to adorn your desk or workspace.  Size: 5 cm (2 inches). The set includes 5 characters. Lineup:
Sailor Chibi Moon
Sailor Pluto
Sailor Saturn
Sailor Uranus
Sailor Neptune
These figures are from Japanese gashapon (capsule) toys.
01-94179 Sailor Moon Desktop figure Vol. 2 300y - Set of 5