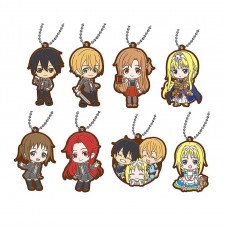 Additional Savings!
Earn Reward Points and apply them to purchases! Find out how to earn more points here.
Bandai Gashapon  Sword Art Online SAO  Alicization Capsule Rubber Mascot Vol. 2. Features a ball chain key chain for attachment. Size: 2.25 inches (5.5 cm). There are 8 figures in the sett. The characters are: 
Kirigaya Kazuto / Kirito
Eugeo (ユージオ, Yūjio)
Yuuki Asuna (結城 明日奈, Yūki Asuna), known as Asuna (アスナ, Asuna)
Alice Schuberg (アリス・ツーベルク, Arisu Tsūberuku)
Ronye Arabel (ロニエ・アラベル, Ronie Araberu)
Tiese Shtolienen (ティーゼ・シュトリーネン, Tīze Shutorīnen)
Kirito / Alice / Eugeo
Alice Schuberg Ver B.
These Figures are from Japanese Gashapon (Capsule) Toys.
01-26915 Sword Art Online SAO Alicization Capsule Rubber Mascot Vol. 2 300y - Set of 8