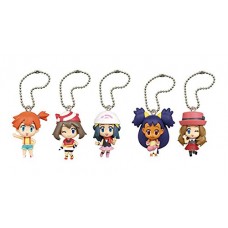 Additional Savings!
Earn Reward Points and apply them to purchases! Find out how to earn more points here.
Features
Exclusively from Bandai Japan
Size: 3.0 cm (1.25 inches) Height
Collector's Item
Officially Licensed
  Mini deformed Pokemon Girl Trainers Special mini mascots on a ball chain key chain. There is also a mini stand for the figures to stand on their own for display purposes.  There are 5 figures in a set
The Set includes:
1. Kasumi (Misty)
2. Haruka (May)
3. Hikari (Dawn)
4. Iris
5. Serena
These Figures are from Japanese Gashapon (Capsule) Toys.  Price per figure.
02-85720 Pokemon Deformed Figure Series Girl Trainers Special Figure Mascot / Key Chain 300y - Set of 5