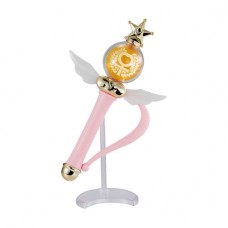 Additional Savings!
Earn Reward Points and apply them to purchases! Find out how to earn more points here.
Features
Japan Import
Size:18.5cm (7.25 Inches)
Officially Licensed
Mini Sailor Moon Replica Wand and Rod collection by Bandai Japan. Includes Moon Shape Clear Display Stand. Some Assembly required. Packaged in a custom cylindrical gashapon capsule. Must have for Sailor moon Collectors.
The Set includes 6 different wands. Each sold separately! The wands in the set are:
Eternal Tiare (エターナル・ティアル)
Holy Moon Chalice (ホーリー・ムーン・カリス)
Crystal Change Rod (クリスタル·チェンジ·ロッド) Sailor Mercury
Crystal Change Rod (クリスタル·チェンジ·ロッド) Sailor Mars
Crystal Change Rod (クリスタル·チェンジ·ロッド) Sailor Jupiter
Crystal Change Rod (クリスタル·チェンジ·ロッド) Sailor Venus
The Eternal Tiare was the strongest and most powerful moon-based weapon Super Sailor Moon received when she evolved into Eternal Sailor Moon in both the manga and original anime version.

The Holy Moon Chalice is an item under Eternal Sailor Moon's possession that appeared in the manga and the first anime.

The Crystal Change Rod was the name for the third, magical transformation devices granted to the four Inner Senshi by Pegasus.
These are from Japanese Gashapon (Capsule) Toys.
Physical Attributes
Proportion
Proportionate
Size
16 - 20 cm
Type
Replica
01-13295 Bishoujo Senshi Sailor Moon Stick and Rod Vol. 4 500y - Crystal Change Rod Sailor Venus