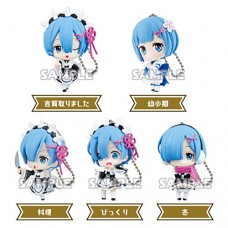 Additional Savings!
Earn Reward Points and apply them to purchases! Find out how to earn more points here.
Features
Exclusive Japan Import
Size: 4.0 cm (1.25 inches) Height
Collector's Item
Officially Licensed
Complete set of 5 figures
Re:Zero Rem mini figure mascot on a ballchain keychain. Various poses and expressions of Rem. There are 5 figures in a set. The set includes:
Rem Winking Version
Rem Greeting Version
Rem Knife Version
Rem Surprised Version
Rem Scarf Version
These Figures are from Japanese Gashapon (Capsule) Toys.
01-35585 Re:Zero Starting Life in a Different World Capsule Collection Rem Figure Mascot 300y - Set of 5