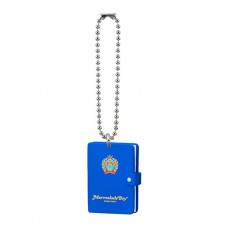 Additional Savings!
Earn Reward Points and apply them to purchases! Find out how to earn more points here.
Features
Japan Exclusive Import
Size: 4.0 cm (1.25 inches) Height
Collector's Item
Officially Licensed
Mini figure mascot on a ball chain key chain. There are 6 different figures in a set. Each SOLD Separately! The set includes
Yuu Matsuura
Miki Koishikawa

Ginta Suou

Voice Memo Recorder Robot

Medal Brooch
Youth Notebook of Love
These Figures are from Japanese Gashapon (Capsule) Toys.

Japan Release: JANUARY 2015
01-92205 Marmalade Boy Swing Mini Figure Mascot Key chain 200y - Youth Notebook of Love