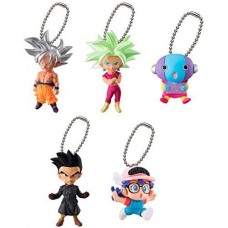 Additional Savings!
Earn Reward Points and apply them to purchases! Find out how to earn more points here.
Features
Exclusively from Bandai Japan
Size: 4.0 cm (1.50 inches) Height
Collector's Item
Officially Licensed
There are 5 figures in a set. Set includes:
- Goku - Ultra Instinct - Migatte no Gokui : Dragon Ball Super
- Zen-Oh : Dragon Ball Super

- Kefla SSJ : Dragon Ball Super
- Son Goten Xeno : Super Dragon Ball Heroes

- Norimaki Arale : Dr Slump

These Figures are from Japanese Gashapon (Capsule) Toys.
Physical Attributes
Attachment Type
Ball chain
Proportion
Super Deformed
Size
4.0 cm
Type
Mascot
01-22785 Bandai Dragon Ball Super Ultimate Deformed Mascot (UDM) Burst 30 200y - Set of 5