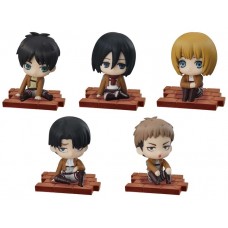 Additional Savings!
Earn Reward Points and apply them to purchases! Find out how to earn more points here.
Japan Import
Size 4cm (1.5 Inches)
Officailly Licensed
Attack on Titan Gashpon (Japanese Capsule) Figures from Bandai Japan. . Suwarasetai (Sitting) Super Deformed Style Mini Figures. Includes Base for Posing on your desktop, shelf, display cabinet, etc. Bases can interlock with other characters from this set. Packaging: Poly Bag.
Physical Attributes
Proportion
(SD) Super Deformed
Size
4 cm
Type
Figure
01-94104 Bandai Attack on Titan Suwarasetai Sitting Collection Set of 5